Whistles ……… Give him the smack down, Finish him!!!!!!!
As kids we all enjoyed watching wrestling matches – the theatrical entry of Undertaker, the amusing fight moves of the Giant Khali and the likeable finishing moves of Triple H and fast forward to now, we still enjoy watching John Cena (you know – even South African act, Sho Madjozi had to sing about some wanna act rough like John Cena / Some wanna get buff like John Cena… chuckle), Roooooman Reigns among others.
In 2021, during night two of wrestlemania 37 – one of the biggest highlights of the night was the Nigerian Drum Fight between Intercontinental Champion Big E and Apollo Crews.
The match, unlike previous ones, stipulated no count-outs or disqualifications, with a win only achievable through pinfall or submission. And as the name goes, Nigerian Drum Fight – the fight scene had Drums and other various implements surrounding the ring – it was influenced by the Nigerian wrestling style of the local communities (you remember all those village wrestling in nollywood movies, like this one you're seeing now).
This opened the eyes of Nigerians to the reality that Anthony Joshua and Israel who are both champions in boxing and martial arts respectively are not the only Nigerians in such sports. Indeed there are Nigerians who have done their bit and are still doing their bit in wrestling.
Sesugh Uhaa – Apollo Crews
Nigerian-born American professional wrestler, Sesugh Uhaa popularly known as Apollo Crews is perhaps the most successful Nigerian in the WWE.
The wrestler, on the second night of Wrestle Mania 37 made Nigeria proud by defeating Ettore "Big E" Ewen to become the intercontinental champion.
Crews' parents, Dr. Julius and Mariam Aver Uhaa are from the Indigenous Tiv community of Vande Ikya in Benue State Nigeria.
Crews, unlike other wrestlers who started off with different sports took early interest in Wrestling, becoming a fan of performers such as Stone Cold, Steve Austin, The Rock and Kurt Angle.
He started his career in 2009, originally working under the ring name, Uhaa Nation, and made his breakthrough in 2011, when he was signed by the Dragon Gate USA promotion.
In 2015, Uhaa signed with WWE and was assigned to its developmental brand NXT, where he was given the ring name, Apollo Crews, which is a combination of Apollo from the boxing film (Creed) and Crews from the surname of actor – Terry Crews.
He was promoted to WWE's main roster on April 4, 2016. His first major casualty been Tyler Breeze, followed by the social outcasts.
His first loss was to equally popular Chris Jericho in 'Money in the Bank' qualifying match. Crews blamed his loss on a pre-match attack on him by Sheamus who he later on exerted his revenge on in the Money in the Bank event.
The high point of his wrestling career came on Night two of the Wrestle Mania 37 event, taking home the Intercontinental Championship belt.
Quinn Ojinnaka – Moose
Thirty six year old Quinn Ojinnaka used to be an American football guard who signed on to become a professional wrestler under the ring name of Moose.
Before venturing into wrestling – he was first drafted by the Atlanta Falcons in the fifth round of the 2006 NFL Draft and had stints with the New England Patriots, Indianapolis Colts and the St. Louis Rams.
Ojinnaka started his professional wrestling training in 2012, debuting for Dragon Gate USA, working alongside, The Bravado Brothers in a bodyguard role.
On July 28, 2016 – Moose made his in-ring debut for Impact Wrestling, defeating Indie wrestler David Starr.
Fast forward to December 2016, Moose answered the Open Challenge of Aron Rex and defeated him for the Impact Grand Championship. Again, he beat Aron Rex in a rematch the following week to keep his title which he successfully defended against Drew Galloway and Mike Bennett.
However, every reign has an end, and for Moose, his loss occurred on January 19, 2017 when he lost to Drew Galloway.
Moose who is six feet five inches tall, is known for finishing off opponents with the Game Breaker move inspired by Kazuchika Okada as well as a Sitout, choke-bomb, to an opponent seated on a turnbuckle known as Go to hell.
Babatunde Lukasz Aiyegbusi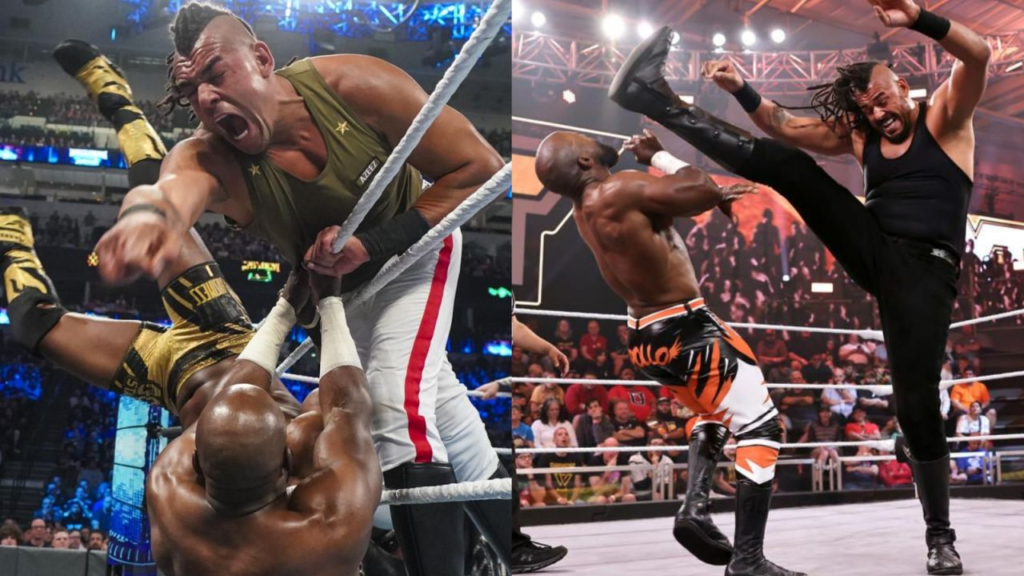 Shockingly, Aiyegbusi claims he is a polish citizen by birth since he was born in Olesnica, Poland on May 26, 1988. Fair enough, but the name is obviously very Nigerian and one can easily tell what part of the African country he is from (Omo Yoruba ni e o… swagger). 
He is currently signed to World Wrestling Entertainment (WWE). He used to appear for the Raw brand under the ring name Commander Azeez, he subsequently became known as Babatunde and is now known as Dabbo- Kato.
Like the other wrestlers mentioned earlier, Aiyegbusi started off as a basketball player playing several matches during which he won a championship in Poland as a point guard for the reserves Silesia competition in Division II.
From Basketball, Aiyegbusi switched to playing American football in 2005 as an offensive lineman. His career in the Polish American Football League included stints for, The Crew Wrocław, Giants Wrocław and Warsaw Eagles and in the German Football League for Dresden Monarchs.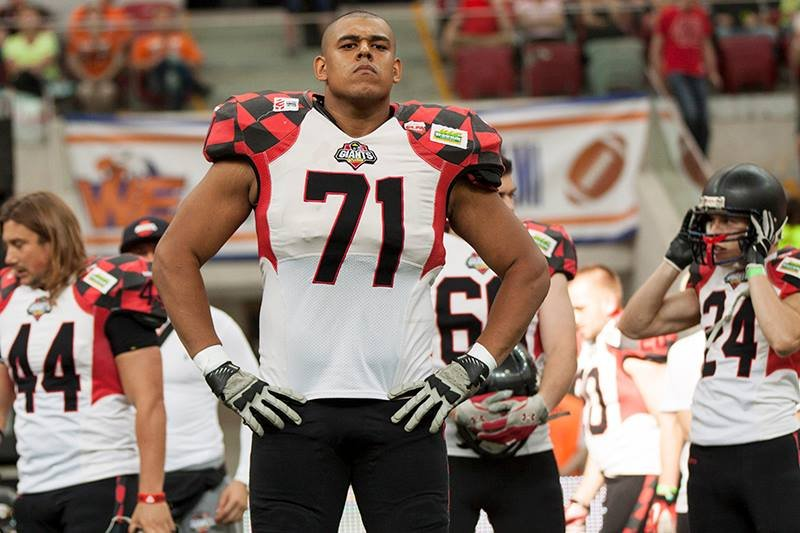 After 10 years, he switched to wrestling and in 2016 signed a developmental contract with the World Wrestling federation.
Aiyegbusi made his debut in 2016 during a September 30 NXT Live event, participating in a Battle Royal match won by NXT rookie, Dan Matha. His first victory came in january 2017 when he beat Australian wrestler, Chris Atkins.
Up until, 2021, his highest-profile appearance was at the Greatest Royal Rumble in April 2018 with the name, Babatunde. He also wrestled for EVOLVE while under WWE contract in 2019.
Recently, under the name, Dabba-Kato, the Nigerian – Polish national made his return to WWE television on night two of WrestleMania 37, aligning with Apollo Crews in Crews' Intercontinental title win in the Nigerian Drum Fight.
Jordan Omogbehin  – Omos
Jordan Omogbehin before joining the WWE was a college basketball player for the University of South Florida and for Morgan State University. He played professionally between 2012 to 2015.  Jordan Omogbehin was born in Lagos, Nigeria. His family migrated to the United States of America later on and he schooled in Virginia.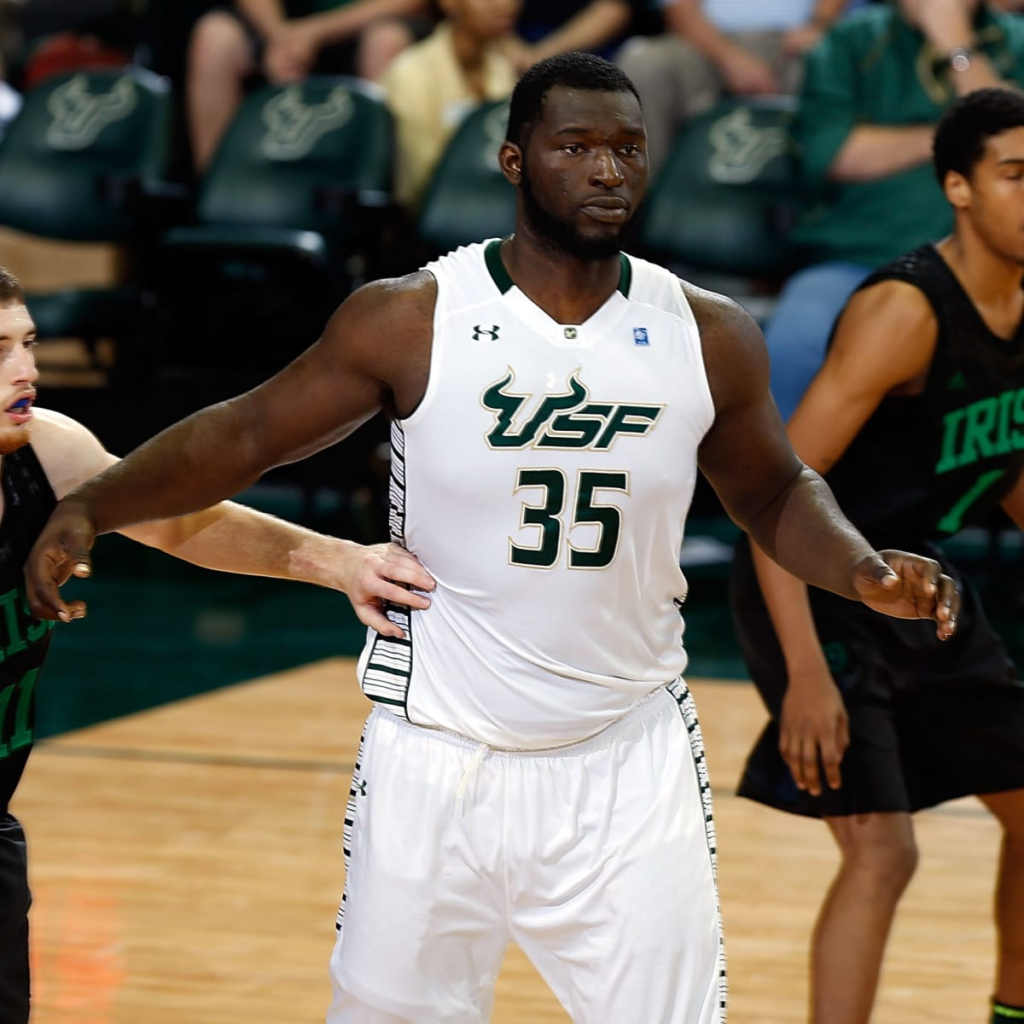 In 2018, the World Wrestling Entertainment signed Omogbehin to the wrestling Raw brand under the ring name, Omos.
Fast forward to 2019, Omogbehin made his in-ring debut during a July 18 house show, defeating team 3.0 in a Two-On-One Handicap match.
Few months later, precisely in August, 2019, at another house show he emerged the winner of a 15-Man battle royal match. Over that period up until 2020, he fought Cezar Bononi, Kona Reeves, Denzel Dejournette, Tehuti Miles, Aleksandar Jaksic and Tehuti Miles and defeated all of them except The Forgotten Sons.
In 2020, Omogbehin debuted as a surprise member of Akira Tozawa's ninja faction on Monday Night RAW and was referred to as Big Ninja since he was the tallest member of the faction. One significant event of the night was the post-match confrontation with popular wrestler, Big Show.
In recent times, he has gained more fame from being on screen bodyguard to top spot wrestler, AJ Styles. And here's a quick fact, he is a damning 7 feet 2 inches tall and weighs 180 kilogrammes.
Ezekwesiri Nduka – "EJ" Ezra Judge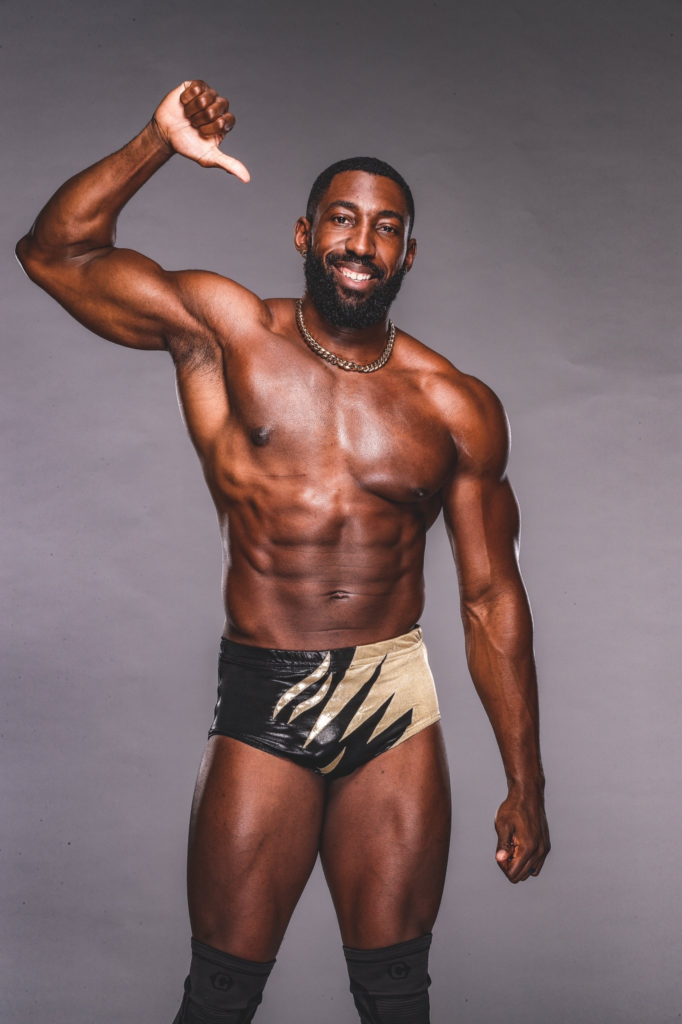 He was born on August 28, 1988 in Dallas, Texas in the United States of America to Prince and Obie Nduka who are from South Eastern part of Nigeria.
EJ Nduka attended Jackson Memorial High School in Jackson, New Jersey and played basketball before switching to rugby.
He was a rugby player for Sam Houston State University and was signed by the Toronto Argonauts in February, 2013 before joining the World Wrestling Entertainment.
First, EJ was involved in a tryout in December 2018 but did not exactly make the cut before his second tryout in April 2019. In August, 2019, the WWE announced that they had signed him and that he would report to the WWE Performance Center under the NXT brand.
EJ has a height of 6 feet, 8 inches and is reported to weigh about 129 kilogrammes. You should also check out his ripped body but he is yet to achieve any major success yet on the WWE roster.