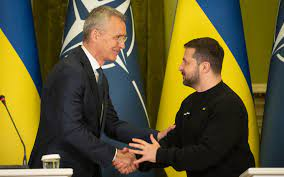 NATO Secretary-General, Jens Stoltenberg says member states agreed in principle that Ukraine should join the bloc.
Stoltenberg who recently arrived from a trip to Kyiv where Ukrainian President, Volodymyr Zelenskyy called for his country's accession to be fast-tracked confirmed this in Ramstein, Germany.
He, however noted that the current priority was for Ukraine to prevail over Russia and prevent any further attacks as the requirement for joining NATO means the country has to be at peace with other countries.
Stoltenberg also said that Zelenskyy had accepted his invitation to NATO's summit in Vilnius this July during his visit to Kyiv.