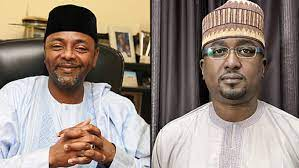 The Court of Appeal sitting in Kano has thrown out the judgment of a High Court that recognised Muhammad Abacha as the governorship candidate of the people's Democratic Party (PDP) in Kano state and asked that Sadiq Wali be reinstated.
The Independent National Electoral Commission had prior to the judgement of the lower court recognised Wali as its Candidate.
In a consensus judgment of the three-man-panel read by Justice Usman Musale, the court held that since Abacha did not participate at the primary election conducted by NEC that produced Wali, he had no locus standi to challenge the said primary.
Recall that Presidential Candidate of PDP, Atiku Abubakar and the party hierarchy, refused to endorse either of party's two parallel gubernatorial candidates, with the absence of the usual handing over of party flag to the party's gubernatorial candidate on the agenda of the rally.