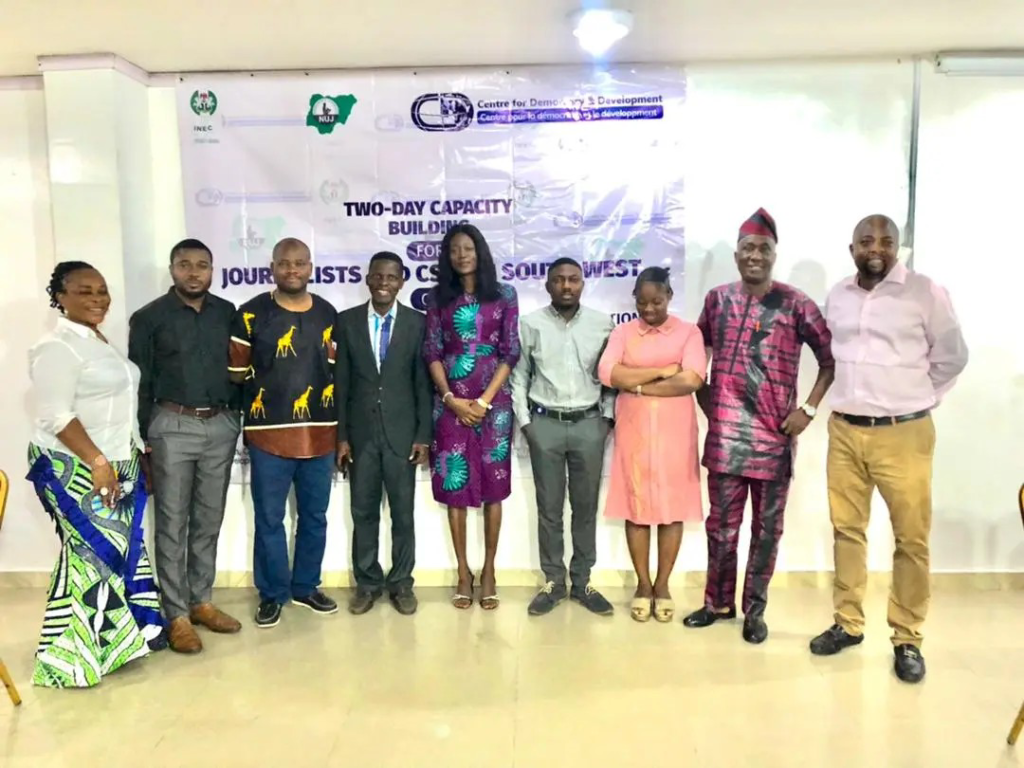 Nigeria and the rest of the globe will suffer severe consequences if it allows fake news to fester and continue to dominate the polity especially ahead of the 2023 elections in Nigeria.
This was the main position of selected Journalists, Civil Society practitioners from South West Nigeria at the just concluded two day capacity training organised by the Centre for Democracy & Development,(CDD)in conjunction with the Nigeria Union of Journalists (NUJ) and the Independent National Electoral Commission (INEC).
The workshop that took place in Ikeja, Lagos had the theme, Conflict-Sensitive Reporting, 2023 General Elections And Countering Fake News.
Delivering open remarks at the event, Executive Director, CDD, Idayat Hassan highlighted the dangers of fake news and the need for journalists to be pro active in countering fake news.
Represented by Senior Programmes Officer, CDD, Austin Aigbe, the Executive Director, emphasised the need for collaboration between Journalists, Civil Society Organisations and CDD to fight fake news especially towards the 2023 elections.
"The population of West Africa is over 400 million, Nigeria's population based on Worldometer stats, indicates that Nigeria's population hovers at over 200 million, that's about half of the entire region.
"Any implication of conflict that will lead to violence in any election has a snowball effect…and the media has a role to play in ensuring peaceful elections," He added.
In his address, President of the Nigeria Union of Journalists, Mr Chris Iziguso restated the commitment of the Union to mitigating spread of fake news and conflict via reports.
"We are conscious of our professional responsibility to gather, collate, process and disseminate news.
"Through this role we act as gatekeepers who determine which news material to disseminate, especially against the background of available of myriads of available news materials," Iziguzo added.
While advising Journalists to adopt the canons of Peace Journalism, Iziguso said the NUJ was concerned about Journalists actively using their social influence to improve the awareness of people and their involvement in the electoral process.
A communique drafted and jointly approved by participants at the event highlighted the imperative for media organisations to maximise fact checking hub in their newsrooms, give fair hearing, equal space, time and opportunity to all parties in their reports.
They also advocated, "promulgation of a law that ensures adequate safety and insurance for Journalists and CSO members".
The participants also emphasised the need for "journalists and CSOs to remain apolitical irrespective of the pressure or inducement from any of the parties".
The two day workshop explored important parts of the 2022 electoral act, the functionality of the Bimodial Voters Accreditation System (BVAS), Conflict sensitive reporting and fact checking.