"Nigeria should be a failed state … or that even if not a failed state, it is highly likely to
become a failed state in the very near future."
This statement sets the tone for the arguments that writers, Andrew S. Nevin, Uma Kymal, Seyi Agbedana, Peter Nigel Cameron, Rufai Oseni and Joke Ajao attempts to justify in their collaborative effort; Nigeria; a self organising people.
The writers explain Nigeria's status and prospects as self organising and traverse through the major sectors of the country, governance, security, health care and entertainment.
It draws from how the country managed to suffer low casualties during the Covid 19 pandemic as against other countries to highlight the potential that the country possesses.
The opening chapter of the book, "What self Organising is Not" firmly exposes the self serving nature of Nigerians, including spiritual leaders and how that has become detrimental to the country's growth.
A part of the book reads; "Many Nigerians seek government contracts or connections, with the hope to get 'the big break' that will stabilise their finances for all time. Some people get one big break and like gamblers, spend the rest of their lives chasing the next one. In some cases, this rent-seeking is sadly enabled by their spiritual leaders who encourage them that they will get the government contract, if only they have faith. This is an unsustainable and impractical source of livelihood."
As the world transforms and Nigeria looks to the future, Rufai, Nevin, Ajao, Agbedana, Kymal and Cameron make a daring proposition on government doing less and leveraging the self organising impulse of the Nigerian people.
But first, they make a case for the informal sector arguing that, "Nigeria does in fact need many
more carpenters, bricklayers, plumbers, electricians, cooks, and artisans in general (in many cases, these jobs pay more than what the average university graduate earns!)."
In conclusion, the authors seek to convince Nigerians that their ability to organise life by themselves and for themselves in the midst of chaos is the key to longterm prosperity as a Nation.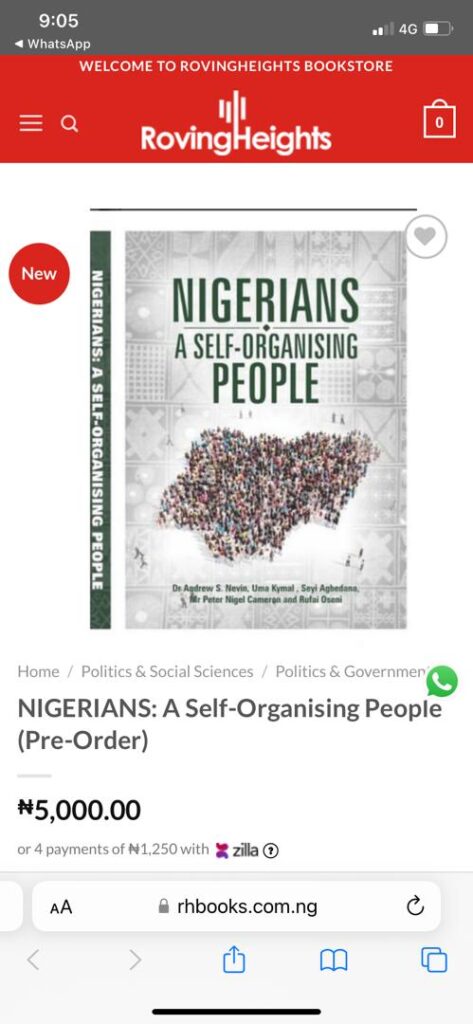 Nigeria: A Self Organising People will be available in stores from November 18, 2022.
You can pre-order via
https://rhbooks.com.ng/product/nigerians-a-self-organising-people-pre-order/