The Vice President, Yemi Osinbajo (SAN), says it is an insult for presidential candidate of the All Progressives Congress, Bola Tinubu to say he has forgiven him.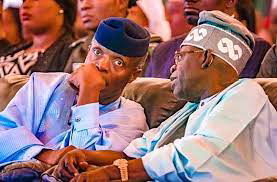 Recall that Osinbajo who served as Commissioner of Justice under Tinubu from 1999 till 2007, refused to back Tinubu's presidential ambitions, opting to run against him and emerging a distant third in the primaries.
Tinubu had on Monday in Kano told an audience that included clerics, that he had forgiven Osinbajo for running against him, adding that it was part of what the Quran and Bible preached.
Reacting to the position of the National Leader of the APC, an Osinbajo Support Group, Osinbajo Support Movement, said the statement credited to the National Leader of the APC amounted to an insult.
The OSM, in a statement by its Coordinator, Liberty Badmus said while there is room for political realignment, any talk of forgiveness between the Vice President and Asiwaju Tinubu is both an insult and a provocation that it will not take lying low.
The statement reads partly: "While the OSM welcomes the need for the APC flagbearer and other presidential aspirants to come together, the group rejects the use of the word 'forgiveness' and the implications attached to it.
"We note just like the flagbearer stated that both the VP and himself have met at least twice since after the primaries, any attempt to take a revisionist perspective by insinuating that an offence had been committed because a sitting VP decided to run for the Office of President is an unmitigated insult, completely unnecessary and such narratives ought to be totally discouraged.