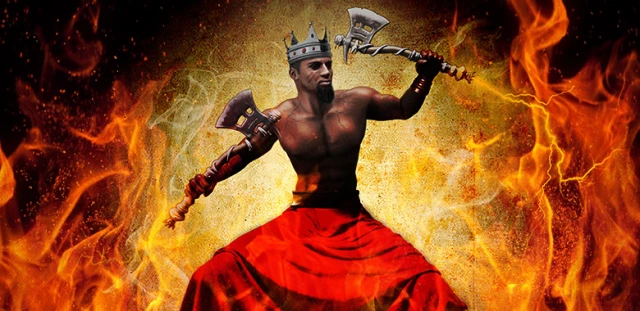 Whilst the following poem by Samuel Olugbeminiyi principally concerns the Òrìṣà Ṣàngó, it is also a retelling of the most well-known myth about the Yorùbá goddess Ọba and her rivalry with the goddess Ọ̀ṣun for Ṣàngó's affections.
Ṣàngó (or Shango, see also — In Praise of Shango and Ode to Shango) was the third Alaafin (ruler) of the Oyo Empire that spread across what is today Benin and Western Nigeria, from the 12th century to the late 18th century. In some myths, Ṣàngó accidentally conjures a meteor shower whilst playing with his magical charms and this results in the demise of his family and the destruction of his compound. Racked with guilt he commits suicide by hanging himself. Ṣàngó was deified after his death, becoming a hot-tempered Òrìṣà who is revered both in Nigeria and across the Caribbean and Latin America through the African Diaspora.
Yorùbá mythology describes Ṣàngó as having three wives, each of which are Òrìṣàs with popular followings of their own. Ọya, a fierce warrior-goddess associated with storms, cemeteries and the mysteries of death and rebirth. Ọ̀ṣun, a fertility goddess associated with beauty and love (see Oshun, the River Goddess), and Ọba, who is also associated with warfare (William Bascom records one of her praise names as "Oba, who owns parrot tail feathers and fights on the left") and the protection of the hearth.
Each of these goddesses have rivers named after them, the Odo Ọya, the Yorùbá name for the Niger River, the Odo Oṣun, which flows past Oṣogbo, the capital of Osun State in south-western Nigeria, and the Odo Ọba which is a tributary of the River Oṣun and flows past Ogbomoṣo in Oyo state.
The most well-known myths about Ọba concern her rivalry with Ọ̀ṣun and a trick that Ọ̀ṣun plays on Ọba that results in Ọba cutting off her own ear, cooking it and serving it to Ṣàngó in the misguided belief that this will win his affection. William Bascom collected various versions of this myth from Nigeria, Cuba and Brazil for his essay "Ọba's Ear: A Yorùbá Myth in Cuba and Brazil", published in Research in African Literatures, Vol. 7, No. 2 (Autumn, 1976). Readers can read Bascom's essay at the JSTOR digital library (requires creating a personal account to read the article online for free).
Discovering this ear in his food, an outraged Ṣàngó turns on both wives with a thunderous fury, leading both Ọ̀ṣun and Ọba to scatter and transform into their respective rivers. The River Oṣun and River Ọba intersect at turbulent rapids and the violence of the waters is said to symbolise the vehement hostility these two Orishas share for one another. In possession ceremonies across Nigeria, Cuba and Brazil, when Ọba dances she dances with her hand covering her left ear.
I
Elempe's people accorded Torosi's son with native intelligence (1)
He was possessed with bits of four hundred deities
He himself, was half-god
Sango, was Elempe's son.
He was the greatest King
to grace his bosom on an ancient throne
The wind at his beck, lightning at his call
His words, finely lined with fire and Edun Ara was a gift of his fury (2)
Sango was half-deity.
II
Elempe's son bedded Yemoja's three princesses (3)
A legitimate first, Oba
A legitimate second, Osun
An acquainted third, Oya
His love like rain, he showered on Osun
Apparently, this deity did not love equally.
III
Oba, desperately desiring to please Elempe's son
sought the secrets to his eyes, ears and mind from Osun.
A small piece of my ear, Osun quibbled.
Oba, the overzealous wife, cuts her whole to feed her king.
Sango approched Oba's food
deeming it fit for taste as obligation.
He spots the ear and squeals "Poison, Oba! Poison!"
Rising furiously, spitting and calling repeatedly
till his palace is home to fire, ashes and black dust.
He is human, with flaws.
IV
Oba is banished, Osun flees, Oya too
The former two, in pain, anger and frustration cry rivers.
Oba's tears transforms to the Odo Oba, Osun's tears to Odo Osun (4)
Two rivers running turbulently in fierce tributary.
You ask about Oya?
You'll find her in the river Niger
Elempe's son?
Do we ask Gbonka? (5)
Or does he live?
Oba Koso (6)
Somewhere in the clouds spitting and calling less frequently
He is a god now.
This poem was originally published here; https://africanpoems.net/modern-poetry-in-oral-manner/sangos-tale/
Footnotes
Elempe: Was the king of Nupe and maternal grandfather of Ṣàngó. It is believed that because Ṣàngó spent sometime in his mother's land, he became Elempe's favourite and was often regarded as his son.
Edun ara: In Yorùbá mythology these are the charmed stones which Ṣàngó used to generate thunder and lightning.
Yemọja: In Yorùbá mythology Yemọja is the mother of all Òrìṣàs and goddess of the oceans and rivers.
Odo: Yorùbá word for river.
Gbonka: A powerful military general who reportedly became Ṣàngó's fierce rival. Some accounts claim, he killed Ṣàngó while others claim Ṣàngó killed him before disappearing into thin air.
Koso: Some mythical accounts claim, Ṣàngó hung himself at a place called Koso