The friend of late BBNAIJA reality star, Patrick Fakoya aka Rico Swavey has admitted that several persons at the Doren Hospital recorded the celebrity while he was unconscious but says she does not remember their identity.
Recall that after Rico's death, a 30-second video clip showing Rico Swavey placed on oxygen as he was unconscious on a chair surfaced on social media.
In the clip, it was observed that the nurses were attempting to carry him on a bed when someone brought out a phone and started recording him.
A nurse was heard cautioning the photographer against the act.
Following the backlash about the conduct of the persons who recorded, Doren Specialist Hospital released a statement indicating that the recording was not done by any of its nurses but pointed fingers at Rico's female friend, Miss Ify Helen Eze.
The hospital statement read in part, "Efforts were made to trace his family and one female friend of his (Miss Ify Helen Eze, phone no- 070**) came into the facility to see him. She and the good Samaritan who brought the patient were told of the severity of his condition, and the need of urgent neurosurgical review and also the need to be referred to Evercare hospital. Miss Ify Helen Eze fainted on seeing his condition and she had to be resuscitated.
"A detailed referral letter was written and given to the relations. After an initial reluctance, they accepted the letter. But before leaving the two of them (Miss Ify and the Good Samaritan) decided to make a video to exonerate themselves from being implicated as being responsible for the patient's condition. Most likely Miss Ify Helen Eze and her partner (Good Samaritan) are the people who videoed and posted on social media for reasons best known to them.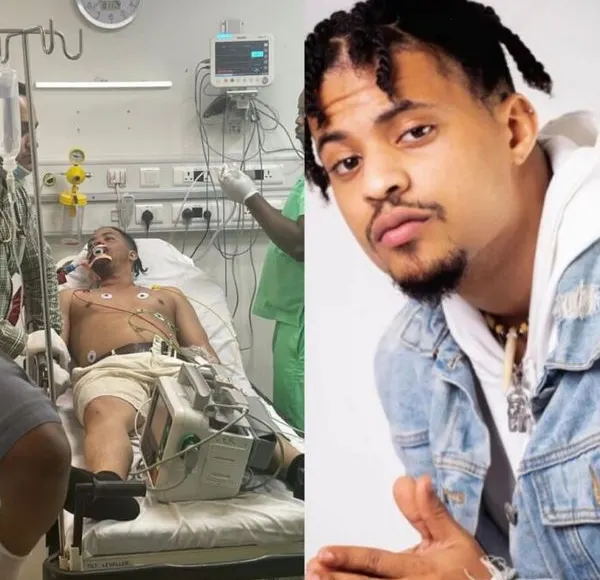 "I wanted People to Know its Real" – Ify Helen
When Veonewsng contacted Miss Helen, she corroborated the account by Doren hospital, saying she initially fainted on sighting Rico Swavey's unconscious body.
She said, "When I got to the hospital, I fainted, I was shocked. I was confused at that point of time, the people said that they were trying to open his phone and have access to it (so they could reach his family) but they could not because it had a password. So I was confused.
"No doubt, I snapped a picture, but I did not snap people that were around. I snapped him because I wanted to show people so that they believe what I'm saying. Then, I went live, that was when I was carrying him, because when I got there, they told me that the condition is actually very critical, that they are confused."
She then admitted that in the process of finding a vehicle to convey Rico Swavey to another hospital, people present at the hospital at the time "recorded everything because they did not want the hospital or anyone to raise any allegations against them."
When Veonewsng asked if she could identify any of the persons who recorded the clip and if they were members of staff of Doren hospital, Hellen replied in the negative.
She explained that she could not identify the persons who recorded ", because a lot of people were there and I was tense, I can't start figuring people out because I was tense at that point of time, I was confused."
No Available Ambulance to Convey Rico
In the chat with Helen, she admitted that as soon as she arrived at Doren Specialist Hospital, she was saddled with transporting the patient to another hospital.
Helen, who claimed to have been tensed at the time, said when she queried why the hospital could not transport Rico Swavey, the hospital officials said the "emergency car (ambulance) is not good".
Veonewsng learnt that hospital officials told Helen that if she failed to rush Rico to the hospital, he could die.
It however, took the humanity of the cab driver who took Rico to the Doren Specialist Hospital to agree to take the deceased to the next hospital.
It is unclear how many minutes was spent before Rico Swavey was finally conveyed to another hospital.
29 year old Rico Swavey died on Thursday, October 13, 2022.