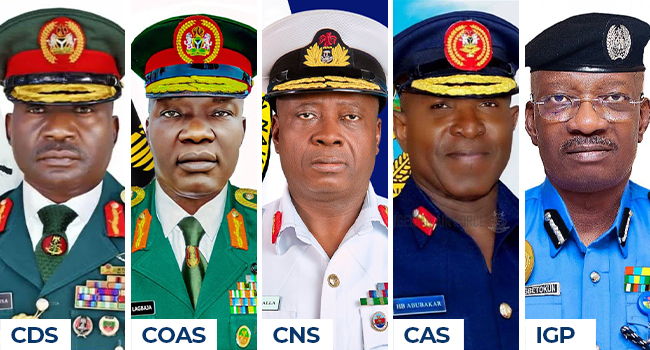 The service chiefs and the Inspector General of Police (IGP), Kayode Egbetokun, have appealed to the senate to assist in different capacities to adequately tackle their challenges and needs in a bid to improve the security situation in the country.
The service chiefs who failed to appear before the house last week, briefed the house today on the state of security, with the Chief of Naval Staff, Vice Admiral Emmanuel Ogalla, requesting that the National Assembly intervene in enhancing surveillance to cover the backwaters, creeks, and other areas behind the coastline.
Police chief, Kayode Egbetokun outlined some challenges within the force, including poor logistics provision, insufficient patrol vehicles for police divisions, inadequate training while pleading with the lawmakers to intervene in the poor welfare of personnel.
On his part, Chief of Defence Staff, General Christopher Musa requested improved funding, disclosing that every military man including himself is fed N1,500 per day, calling for collaboration of the judiciary to ensure that criminals are not released on technicalities and the establishment of special courts to address the arrest of high-level criminals.
The security chiefs however lauded the Tinubu administration for the willingness to put measures in place to stem the tide of insecurity in the state.