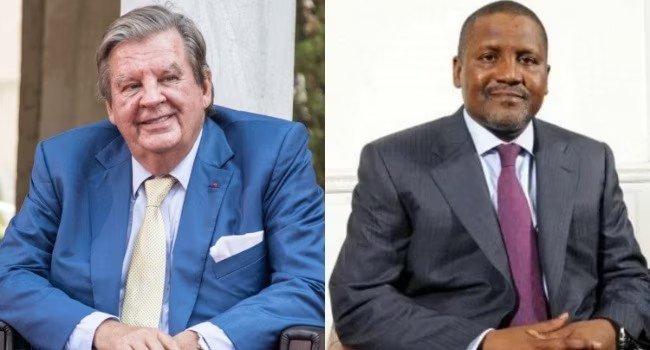 Nigerian Business magnate, Aliko Dangote has been displaced by South African billionaire, Johann Rupert as the richest man in Africa.
According to Forbes Billionaire Ranking seen on Sunday, Dangote's net worth dropped by 20.7% amid the naira devaluation implemented by the Central Bank of Nigeria (CBN).
The naira to dollar exchange rate closed Friday's trading with N663.04/$1, up from N471.67/$1 on Tuesday, as a result of the devaluation.
Amid the decline in the value of the naira, which is the denomination Dangote's wealth is based on, dropped by $2.80 billion to $10.7 billion, from $13.5 billion.
Meanwhile, Rupert became the richest man in Africa after his net worth increased by $1.3 billion from $10.7 billion to $13.5 billion.
It is the first time Dangote has been displaced from the top of the Forbes billionaire Index since 2008.
Although, according to Bloomberg Billionaire Index, Dangote remains the richest man in Africa with $16.8 billion, recording a year-to-date loss of $1.86 billion.
Rupert was placed on the second spot with a net worth of $13.6 billion, with a year-to-date gain of $2.67 billion.
Note that Forbes and Bloomberg use different methodologies to arrive at the richest man in the world or Africa list, hence the difference in net worth and position of Dangote and Rupert.