Two agents of the of the Peoples Democratic Party (PDP), stormed out of the National Collation Centre for the presidential election results at the International Conference Centre in Abuja on Monday over the process of collation of results of the 2023 elections.
Senator Dino Melaye and a former governor of Imo State, Emeka Ihedioha; amongst other party agents staged a walkout on the chairman of the Independent National Electoral Commission (INEC), Mahmood Yakubu after they voiced concerns over the process of the collation of results from state collation officers for the presidential election (SCOPs).
Melaye, Ihedioha and the agents of five other parties had complained that the results presented by INEC SCOPs weren't uploaded on the commission's Results Viewing Portal (IReV), as repeatedly promised by the electoral umpire before the February 25 presidential poll.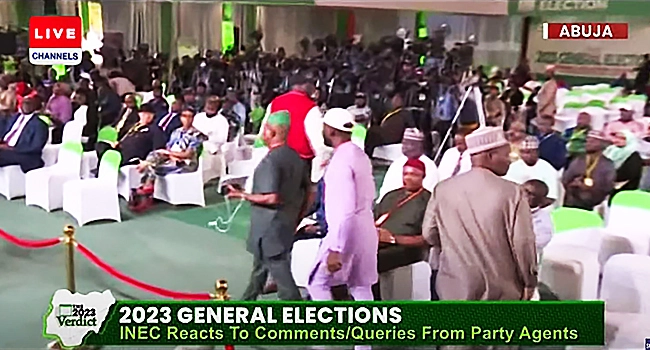 Melaye argued strongly that without the upload of results electronically on IReV, this year's election is not in any way different from the manual transmission of results done in 2015.
Melaye and others fiercely insisted that the INEC Chairman, Mahmood Yakubu must not accept the results of Ekiti, alleging that there were incidents of over voting and electoral irregularities.
But the INEC chairman maintained that there was no over voting in Ekiti and that the results presented by the SCOPs stand.
In reaction, Melaye, Ihedioha and about four others stormed out of the national collation centre.
The collation of results in Abuja has since continued in their absence.