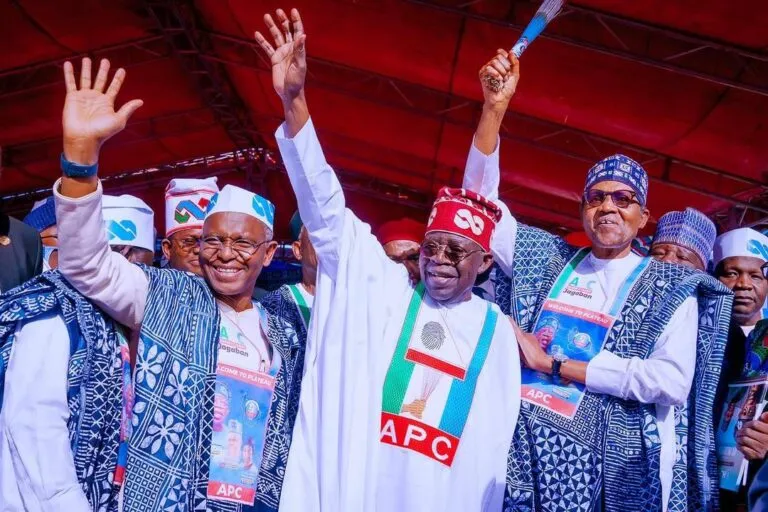 President Muhammadu Buhari has reaffirmed his support for the Presidential Candidate of the All Progressives Congress, Bola Tinubu in the 2023 elections, describing him as a committed Nigerian.
There have been concerns around the measure of support President Buhari has for the party's candidate after Governor Nasir El-Rufai of Kaduna State, insinuated that some "elements" in the Aso Rock where working against Tinubu because their preferred candidate did not emerge.
El-Rufai had during the interview on Channels Television also queried the naira redesign policy, insisting that the timing did not make political and economic sense. He suggested that it was part of the ploy to reduce the party's chances in the 2023 general elections.
But addressing a crowd of APC supporters at the campaign rally in Lafia, Nasarawa State Capital on Saturday, Buhari, flanked by TInubu, Vice Presidential Candidate, Kashim Shettima, President of the Senate, Ahmed Lawan and Governor Abdullahi Sule, pledged his commitment to continue to campaign for Tinubu.
"I visited all the states when I was campaigning for this second and final term in 2019, I will continue to campaign for Bola Ahmed Tinubu.
"he is a committed Nigerian and I believe he will give all he has to this campaign and to you, Nigerians," The President said.
Earlier, President Buhari unveiled some Federal Government projects including the Agricultural Machinery and Equipment Development Institute.
AMEDI is one of the Buhari regime's legacies meant to make Nigeria a hub and supplier of agro-allied technology, equipment, and machinery.
The project is also aimed at making the nation self-sufficient in food production as well as creating more sustainable jobs for Nigeria's teeming youths.
Buhari also commissioned the newly constructed Federal Secretariat, Lafia.